Vietnam is the country with the third largest cement production capacity in the world, after China and India, with a production capacity of about 107 million tons/year. Thanks to the application of technology, adjusting the ratio of additives, it is possible to produce more than 20 million tons more, while domestic consumption in the past 3-4 years did not increased, but tended to decrease, only about less than 60 million tons/year.
Chairman of Vietnam Cement Association (VNCA) Nguyen Quang Cung admitted that the big challenge of the industry currently is a condition of imbalance in supply and demand. Serious oversupply and dependence on export is the reality of the cement industry in recent years.
After 2021, a record in cement and clinker exports of nearly 46 million tons, exports in recent months have declined sharply due to the weakening of the real estate sector in China, which accounts for 30-35% of the total cement consumption of this country. This is the main reason for the decline in the output of clinker and cement exports of VietNam.
Meanwhile, the second largest export market, the Philippines, is also affected by difficult shipping conditions and high freight rates, along with an anti-dumping tax of over 10% applied to cement imported from VietNam.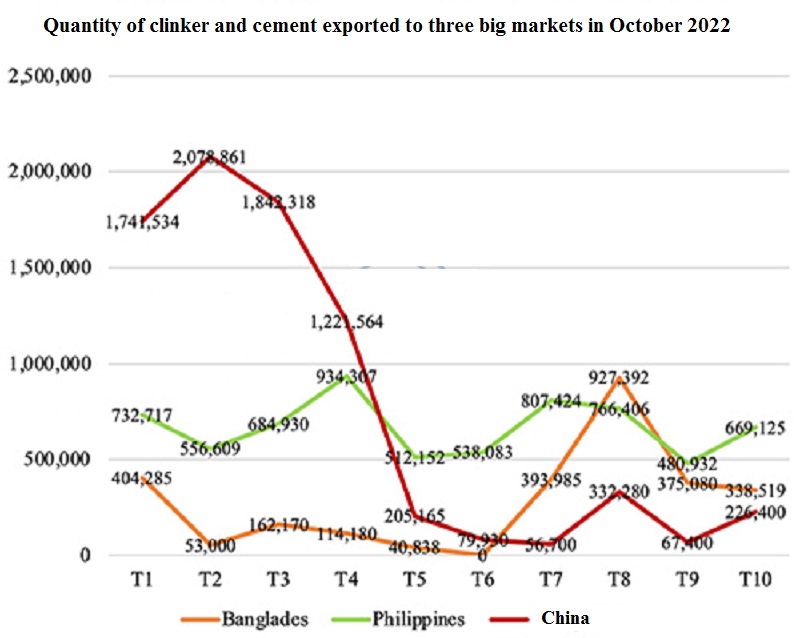 Oversupply and fierce competition in the cement industry are forecasted to continue in 2023. According to VNDIRECT Securities Joint Stock Company, Vietnam's cement industry is in a state of oversupply when the industry production capacity exceeds the demand in the domestic market, but there is still a shortage of large-scale cement factories.
Recently, in Thanh Hoa, the 4th production line of Long Son Cement Plant with a capacity of 2.5 million tons of cement per year has been put into operation, increasing the scale of cement capacity in this locality to nearly 30 million tons per year.
Leaders of Nghi Son Cement Company (Thanh Hoa Province) acknowledged that, with the current large capacity scale, the domestic market is limited, cement businesses still have to focus on exploiting new export markets. Exports also face many difficulties, when policies in each country are different, many markets apply technical barriers to limit imports.
Another problem that the cement industry has to face this year and 2023 is that it will be more difficult to export because countries importing cement and clinker continue to implement many protectionist policies for domestic cement production, applying commercial technical barriers, high freight rates...
In addition, according to Decree No. 101/2021/ND-CP amending and supplementing a number of articles of Decree No. 122/2016/ND-CP and Decree No. 57/2020/ND-CP, from January 1, 2023, the export tax on clinker will be increased from 5% to 10% in order to limit the export of products that use a lot of raw materials, fuels and non-renewable mineral resources.
When taxes and costs increase, export prices will become more expensive, countries importing this item will have to consider more and more to choose the country which has the most reasonable price to import. This forecasts that the export channel in the following years will not have many growth opportunities. The cement industry will have to continue to expect positive signals from the Government's strong disbursement for many public investment projects in 2022 - 2023, which will partially offset the decline in the export market.
(Source: ximang.vn)