Short-term difficulties
"Money is hard, but not the hardest. The hardest thing is where the money goes, in the right place, at the right time."
Dr. Tran Toan Thang, Head of Industry and Enterprise Economic Forecasting Department (National Center for Socio-Economic Information and Forecasting - NCIF) stated at the Forum "Vietnam's Economic Beats" with the Topic "Finance for Recovery and Sustainable Development" on November 5, 2021.
According to Mr.Tran Toan Thang, not only short-term effects, Covid-19 in the period 2020-2021 shows the ability to affect some long-term factors of growth. The rate of under-potential labor force increased, the labor structure changed due to shifting between industries, investment capital decreased because public investment could not be disbursed on schedule, both private investment and FDI were not disbursed or slow growth. The growth potential line tends to go down from the average of 7.3% to 2.5%.
Before the opportunities and risks both inside and outside, the NCIF representative assessed that the economy in the fourth quarter of 2021 is unlikely to recover quickly, and therefore the growth in 2021 of Vietnam, under best conditions, will be around 2%, more likely between 1.5-2%.
In case of slow recovery and many bad situations caused by the disease control, economic growth in 2021 could be around 0.8%.
In 2022, depending on favorable circumstances both at home and abroad, GDP growth is forecasted by NCID experts between 5.8% and 6.7% in the high scenario.
Looking at Vietnam's lowest economic growth since Doi Moi 1986, Dr. Vo Tri Thanh, former deputy director of the Central Institute for Economic Management, still pointed out that the macro was still stable, export growth was generally positive, and FDI commitmented continue to increase.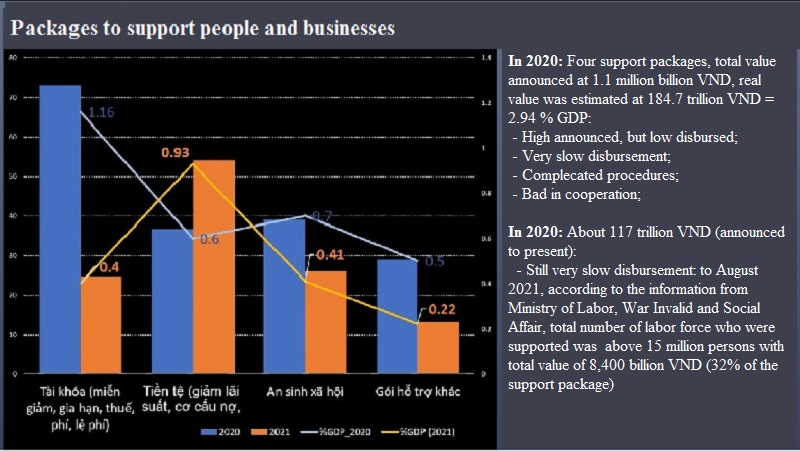 In order for Vietnam to return to the growth track, Dr. Vo Tri Thanh said that Vietnam needed an economic recovery and development program with a large enough scale, large enough area, and long enough time (2022-2023).
In which, this expert mentioned an issue that has been currently controversial, which was how the resources for the support program would be like when the scale was up to hundreds of trillions of dong and the budget was increasingly tight, absolute public debt was still rising.
Dr. Thanh listed resources as increased spending, budget deficit and borrowing with the assumption that "accepting the budget deficit by 2%, from 4-6% of GDP, there would be 7 billion USD for this program"; saving recurrent expenses; using a certain amount of foreign exchange reserves; creating resources through reforming procedures, cutting transaction costs for businesses.
Vaccine coverage and Covid-19 control
In the short term, Dr. Tran Toan Thang said that the most necessary solution was to have reasonable measures to control Covid-19 combined with increasing vaccine coverage. Measures to support businesses and people to overcome short-term difficulties still need to be urgently implemented, however, it was necessary to pay attention to the relatively low implementation costs and effectiveness of the policy at present.
In the long term, attention should be paid to improving labor productivity and business environment, especially considering the economic recovery support program as an opportunity to restructure the economy, reform policy institutions, strictly enforce civil service discipline and make appropriate adjustments to the decentralization of state management.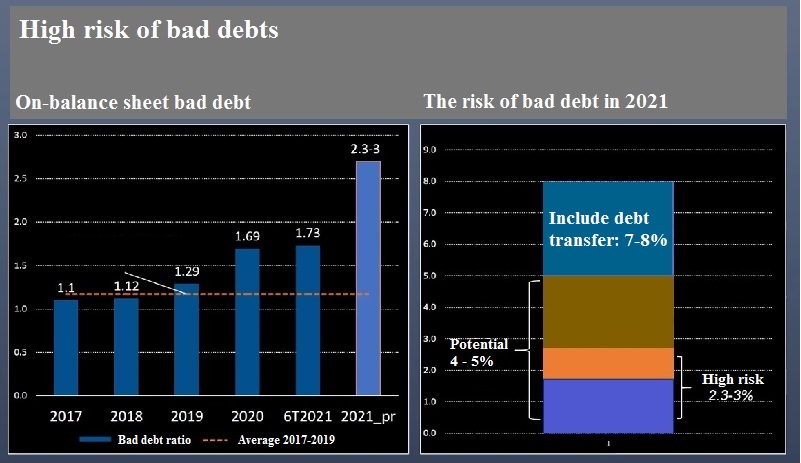 "Measures to promote public investment, especially investment in improving digital infrastructure and promoting digital transformation of businesses are necessary. At the same time, take advantage of the support package to develop a number of key industries, improve supply chains and develop supporting industries in Vietnam", said Dr. Tran Toan Thang.
Mr. Jonathan Pincus, Senior Economic Advisor of UNDP (United Nations Development Program) assessed: Vietnam's fiscal response to the pandemic was not enough. The contraction in private consumption would lead to significant losses and slower GDP growth than necessary. The recovery would be slower as the drop in demand would lead to bankruptcy.
From the experience of other countries, Mr. Jonathan Pincus noted that "speculation is not encouraged". Accordingly, it is necessary to reduce the attractiveness of speculation on land and financial assets such as taxes (property and housing taxes); credit restrictions for speculative activities; limiting excessive lending to properties and stocks.
Although resources for the economic recovery program are a problem, Mr. Vo Tri Thanh stated that "money is difficult, but not the hardest. The hardest thing is where the money goes, going in the right place, at the right time."
Because if entered incorrectly, the consequences will happen like the stimulus package in 2009, the economy will fall into a spiral of "high inflation - low growth - business failure".
"We have several slogans like turning risk into opportunity, but I prefer to say 'pass the risk to take opportunity'; rethink, redesign; rebuild; action must be drastic and fast", Mr. Thanh emphasized.
Source: VietNamNet.vn