Diamonds, concrete, and even lululemon sportswear….
What do these products have in common?
They can all be made using recycled carbon dioxide.
That's right – the planet-warming gas, which would otherwise be trapped in the atmosphere and contribute to climate change.
And investors are increasingly paying attention to the tech startups working on these transformations.
New York-based Aether Diamonds grows gems in the lab using captured CO2.
(Ryan Shearman, Aether Diamonds Founder and CEO) "We are the first and only manufacturer on the planet who's producing diamonds from captured carbon."
Ryan Shearman is the company's founder and CEO.
He says Aether Diamonds has a committed goal of removing 20 metric tons of CO2 from the atmosphere for every carat of diamond that they sell.
"Unlike regular lab-grown diamonds or mined diamonds, we're not sitting here squabbling over which process harms the planet the least. We flip that paradigm on its head. We're producing diamonds that drive a tangible benefit to the environment, to the planet, and to the people that live here."
Their jewellery products range from around $1,000 up to $45,000.
"So we have found that consumers are willing to pay a premium for stone like ours that is sourced in a way that is beneficial to the planet, and that gives us a kind of a unique competitive strength in the market. This allows us to do things that others can't. We dedicate a whole bunch of funding from the sale of every piece to further external decarbonization work."
But how exactly do you recycle CO2?
California-based Twelve works on deconstructing carbon dioxide using water and renewable electricity.
Kendra Kuhl is Twelve's chief technology officer.
"So this is our catalyst. So our catalyst is in solution here. And it's pushed through this spray deposition nozzle and deposited onto this surface, and that's really the heart of our technology is this catalyst layer that transforms the carbon dioxide."
The world needs to capture and store 10 billion tonnes of CO2 annually by 2050 to slow climate change, according to estimates from the United Nations.
Kuhl says recycling carbon could be a solution.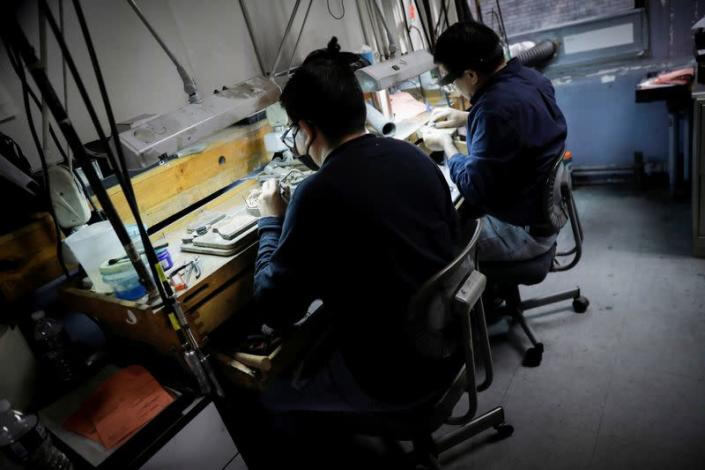 "Our technology will allow us to directly take carbon dioxide and make it into important and essential materials and compounds. If we don't have this type of technology, we'll have to continue to use fossil carbon like petroleum and natural gas, which will eventually add carbon dioxide into our atmosphere."
Carbon tech investments have boomed,
with companies in the area raising over $800 million so far in 2021.
That's more than tripled from 2020, according to a Reuters review of data from PitchBook, Circular Carbon Network, Cleantech Group and Climate Tech VC.
https://news.yahoo.com/co2-recycled-diamonds-171410173.html?soc_src=social-sh&soc_trk=ma